Step Up For The Arc - October 12, 2019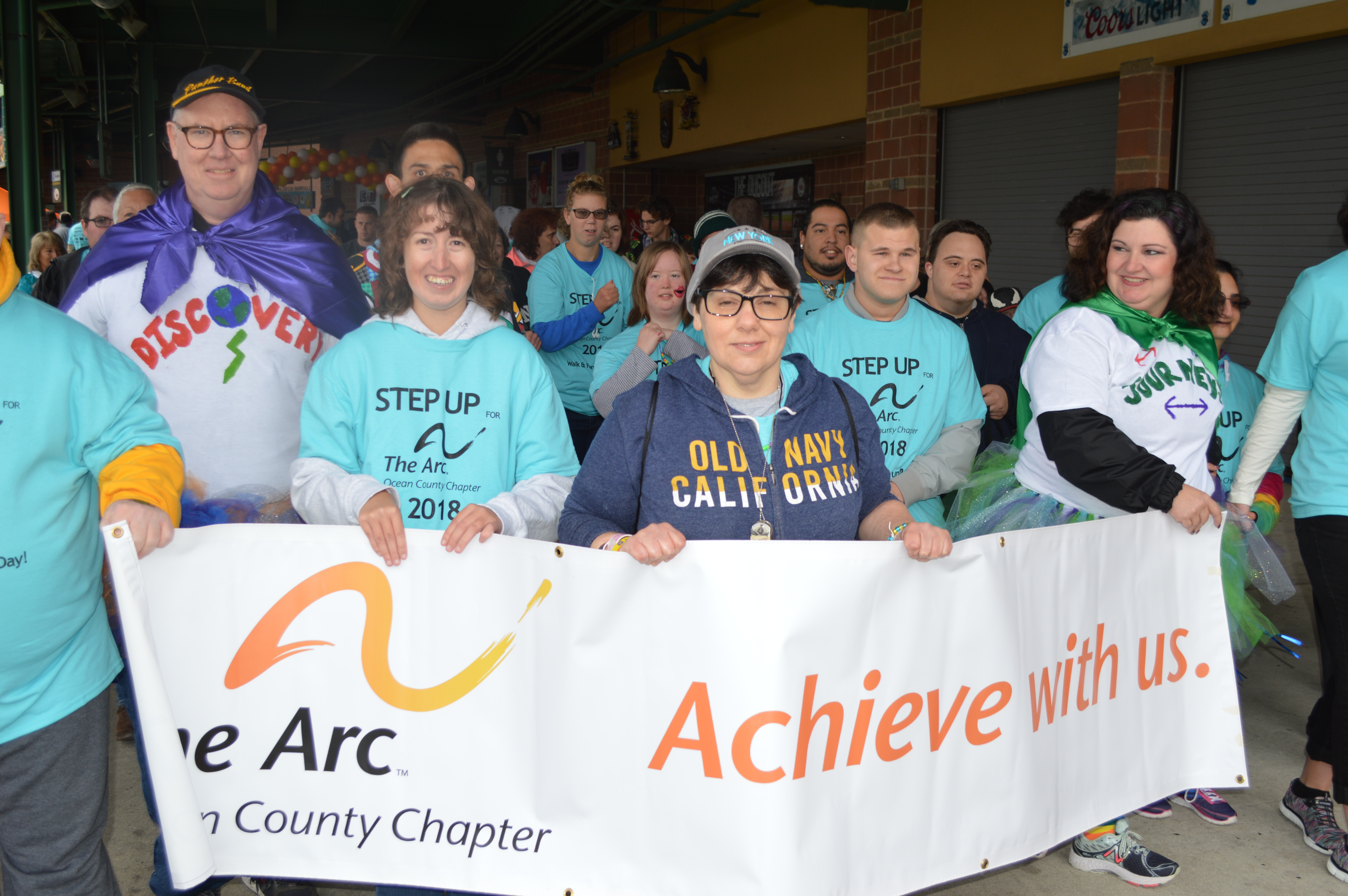 Walk & Family Fun Day
Saturday, October 12, 2019
FirstEnergy Park - Home of the Lakewood BlueClaws
2 Stadium Way, Lakewood, NJ 08701
Registration & Activities: 9:00am
Walk Starts: 11:00am

The Arc, Ocean County Chapter is raising funds to support our programs and services benefiting individuals with intellectual and developmental disabilities.
Walk | Celebrate | Donate
Create a team and invite your family & friends to walk with us! 
Celebrate people with disabilities and enjoy a family fun day with music, games, refreshments, and more!
Donate to fund our residential, vocational and recreation services.
Register & Fundraise Online at: www.crowdrise.com/arcoceanwalk2019
Mail your Registration and Donations to:
The Arc Ocean County Chapter—Walk
815 Cedar Bridge Ave, Lakewood, NJ 08701
Bring your Registration and Donations on Walk Day starting at 9:00am.
Rain or Shine!
This event is free to attend. We encourage all participants to raise $50 or more for their commemorative Walk t-shirt.
Participants raising $50 or more in donations will receive one official 2019 Walk t-shirt! Online gifts or offline donations mailed by 9/27 are guaranteed a t-shirt. Walk Day while supplies last.
Dine to Donate- come out for happy hour, stay for dinner!
Thursday, October 10th at Applebee's of 53 Brick Plaza, Brick NJ 08723
Saturday, October 12th at Quaker Steak and Lube of 1036 Cedar Bridge Ave, Brick NJ 08723
In consideration of being permitted to participate in Step Up for The Arc I hereby for myself, my heirs, and personal representatives assume any and all risks which might be associated with the event.  I further waive, release, discharge and indemnify The Arc Ocean County, The Arc of New Jersey and their Townships/Counties, volunteers, sponsors and others associated with this event, from any and all claims for injuries or damages of any kind arising from participating in the Walkathon.
I permit The Arc Ocean County Chapter the free use of my name and picture in any film/videotape/brochure/newspaper in reports and promotions of this event or future event.
Thank You to Our Sponsors
For Sponsorship Details please click here.
| | |
| --- | --- |
| FirstEnergy & JCPL | Wawa Foundation |
| Advance Auto | Corporate Synergies |
| Manasquan Bank Charitable Foundation | Gallagher Insurance |
| Causeway Family of Dealerships | Kelaher, Van Dyke & Moriarty |
| Mobility Works | Wintrode Family Foundation |
| Rotaty Club of Toms River | Aquatherm Industries |
| ServPro | Georgian Court University |
| Lakewood Elks Lodge | Adler's Pharmacy |
| National Church Residences | Zarelli Site Services |
| Doherty Enterprises | Dr. Frio |
| Colonial Funeral Home | Perlmutter Family Shoprites |
| Bald Eagle Pharmacy | New Jersey Natural Gas |
| Larson Ford | Silverton Funeral Home |
| Ron Rosetto Realty Group | Creative Financial Strategies |
| Jimmy's Cuchina | Cedar Management |
Thank You to Our Refreshment Donors
| | |
| --- | --- |
| Howell Target | Fisher Bay Shoprite |
| Brick Atlanta Bread | Bimbo Bakeries |
| Brick Manhattan Bagel | Baron's Bagels |
| Lakewood Starbucks | Toms River Starbucks |
| Herr's | Lakewood Jersey Mikes |
| Quaker Steak and Lube | Brick Applebee's |
| | |