Become a Member
The Arc, Ocean County Chapter Membership 2022
(July 1, 2021 to June 30, 2022)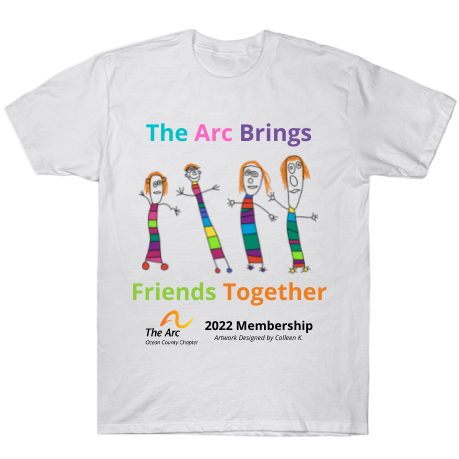 As a member of The Arc, Ocean County Chapter you become an advocate and ally for people with intellectual and developmental disabilities (IDD) in Ocean County, New Jersey, and across the United States.
You raise awareness for intellectual and developmental disabilities in Ocean County and make our community a more inclusive place to live.
Your vote and voice reaches government officials in New Jersey and Washington, D.C. to make a real change for people with disabilities.
You join a powerful network of self-advocates, family, friends and partners with a common goal: for individuals with IDD to be accepted and valued.
Annual membership dues are $25 and be sure to visit our spirit wear store to purchase your one-of-a-kind exclusive member t-shirt designed by Colleen K., a participant at our Journeys & Discovery day program.
Please complete the membership application below or download the membership application here and send your $25 tax deductible annual membership contribution to The Arc Ocean County Chapter, 815 Cedar Bridge Ave, Lakewood, NJ 08701.
Become a Member FY 2022