Event Calendar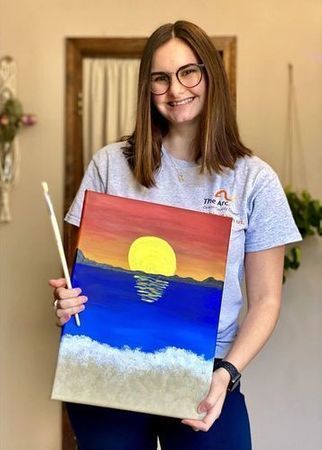 Thanks to a grant from the Ocean County Cultural and Heritage Commission, The Arc, Ocean County Chapter Recreation department will be offering free virtual paint classes to individuals with intellectual and developmental disabilities to further enhance our arts programs for the individuals we serve and the people of Ocean County.
The last two Fridays of each month through May 2021 will provide an opportunity for participants with I/DD to follow a step-by-step guided paint lesson of an ocean sunrise on Zoom, led by Jasmine Wilker who happens to be an experienced art instructor.
Each registered participant will receive a free paint kit in the mail including paint, canvas and brushes to complete the project. Space is limited to five individuals per session for the 1 hour paint class.
At the completion of ten paint classes, our fifty artists' paintings will be displayed for the public to enjoy in a Virtual Art Gallery in June 2021. Additionally, the public will be able to participate in a pre-recorded Zoom session to paint their own ocean sunrise.
PLEASE NOTE: if the April paint classes are sold out, check the May calendar for availability.