Vocational Services
VOCATIONAL SERVICES provides job training, employment opportunities, and transportation to people with intellectual and developmental disabilities with the goal of finding productive employment, increasing self-sufficiency and self esteem, and providing valuable resources to the community.
The program has six Training Centers, Arc Employment Center, Arc Cleaning Services, Supported Employment, Trial Work Experience, Transition Services, Transportation Services and After-School and Adult Drop-Off programs located within Ocean County.
For more information call 732-363-3335 x110.
Vocational survey results are in. If you would like the results of the survey please contact Gina Lambusta at 732-363-3335 x110. Thank you.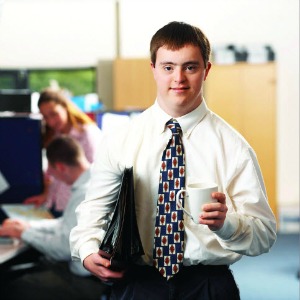 Arc Employment Center (AEC)
Provides supported group employment to clients to maximize potential and teach appropriate work skills and behaviors. Local companies will hire the AEC to complete tasks including assembly, sorting, labeling, packaging, folding, stuffing, and more. For more details call 732-363-6677 or click here.
The Arc Wood Products are hand carved, high quality, one of a kind items produced by individuals with intellectual and developmental disabilities. Click here for more info.
The Arc Cleaning Services Enclaves provides quality cleaning services to local businesses and The Arc programs. Supervised by a group leader, crews perform machine auto-scrubbing, brushing of floors, window washing, and carpet cleaning. Click here for more info.
Adult Training Center (ATC)
Provides training and day habilitation services in Brick, Lakehurst, Toms River, and Tuckerton. Emphasis is placed on acquiring life, social, and work-related skills. Plans are developed with each person, incorporating personal goals and individual strengths and requirements.
Journeys & Discovery
Provides customized programming to assist individuals in acquiring the skills and experience necessary to reach their professional goals including supported employment and trial work experience. Call 732-363-3335 x148 to learn more.
Journeys Sweet Shoppe is a flourishing business completely operated by The Arc Ocean County Chapter's chocolatiers. For more details or special orders call 732-966-7527.
Self-Directed Services
As a qualified vendor for the Division of Developmental Disabilities program Real Life Choices, The Arc, Ocean County Chapter can provide flexible vocational supports to adults looking for employment opportunities and day program services. Using a dynamic approach we can customize schedules to include employment, volunteer opportunities, school and recreation programs.
Transition Services
Provides customized programming to students transitioning out of high school and adults looking for employment and/or vocational opportunities. Transition services include vocational exploration for the pursuit of post-school opportunity and future placement.