The Arc, Ocean County Chapter has been providing residential solutions for Ocean County residents since 1980. The Arc continues to develop new housing options to meet the needs of our families.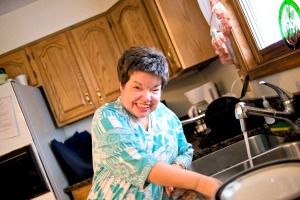 Residential Services provides support to individuals in a variety of housing options. A range of services is available based on individual needs. The goal of the program is to assist individuals with being active and to live as productive citizens in their community.
Residential Services provides supports and homes to over 130 individuals throughout Ocean County. Training and support is provided in daily living skills, money management, nutrition, meal preparation, medical case management, recreation and vocational goals.
Committed to the idea of normalization and providing individuals with opportunities for full participation in their community, we provde three residential options-group homes, supervised apartment program, and a supportive living program.
Programs and Services
Group Homes
Small, residential facilities located within our communities. They typically have 6 or less residents who prefer living in a group situation where 24 hours supervision is provided.
Supervised Apartment Program
Provides support to individuals in their own apartment that is shared with one to two other residents. Staff supervision is available 24 hours a day and is provided based on individual needs.
Supportive Living Program
Provided 2-10 hours of support a week to individuals who are independently able to live in their own home. Individuals who reside in this program are able to independently respond to emergencies and manage their own medications.