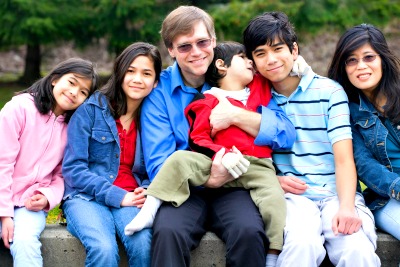 The Arc Family Support Services Department provides advocacy, information, and referrals to people with developmental disabilities and their families with the goals of providing appropriate supports to help individuals with developmental disabilities reach their potential and decrease stress on families.
Assistance is provided to families registering with New Jersey Division of Developmental Disabilities. Once connected with The Arc a family will receive support and information about resources in our area.
The Family Support staff educates families about the supports and services provided by The Arc and area agencies. The Arc provides support to families with recreational opportunities, access to health care, job training and acquiring, housing, advocacy and transportation. Respite programs are managed by Family Support.
Family Support Services staff collaborates with area agencies to provide the necessary resources to families so people with developmental disabilities are accepted and valued as members of society. Each family faces different challenges and every effort is made to meet those challenges, help the family maintain a good quality of life and keep the family together.
Programs and Services
Respite Care
Temporary care that provides relief for permanent care givers. It can be offered for a few hours, a weekend or overnight. The Arc screens and trains respite providers so families can utilize this program knowing their family member is properly cared for.
Recreational Services
Provide individuals with opportunities to participate in activities be choice while encouraging health and fitness, friendships, and skill development. The goal of the program is to facilitate an appropriate and active lifestyle for an improved quality of life.
Most programs have yearly participation fees. Payment plans can be arranged.
Saturday Recreation

Available 40 weeks a year. Programs are hosted in Lakewood, Toms River and Barnegat. Participants pack lunch and enjoy community outings (movies, bowling, games, festivals, picnics and sporting events).

Bowling

Teams bowl in Brick (Ocean Rollers) and Manahawkin (Southern Ocean Stars) weekly. Many bowlers train for Special Olympics bowling.

Friday Night Dance

Hosted weekly for 40 weeks in Lakewood and 12 weeks in Barnegat. Refreshments are served, people enjoy dancing and making new friends. Once a month our "Dance Van" brings both groups together in Lakewood for a larger celebration.

Club Nights

Hosted on Wednesday nights at The Arc in Lakewood and Southern Regional High School in Manahawkin. Participants come together to cook, do crafts, and for community outings.

Sports

Softball is played for 8 weeks in May and June. Soccer is played for 8 weeks in September and October. Sports activities are held at Lake Shenandoah Park in Lakewood.

Bingo

Hosted on Tuesday each month at The Arc in Lakewood, players enjoy refreshments and a night of fun (non-cash prizes).